Properties to let in Salisbury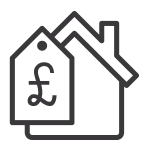 Lettings Fees Information
To secure the property we will require the combined administration and credit referencing fee which will hold the property and stop us conducting any further viewings.
Tenancy Set Up Fee: £225.00 including VAT. Per property
The above is for the tenants share of the following:
legal documentation
written and photographic inventory
time for dealing with paperwork involved in application
Company Let Administration Fee: £420.00 including VAT
Credit Referencing Per Person: £90.00 including VAT
Guarantor Credit Reference Per Person: £90.00 including VAT
Company Credit Reference Fee: £120.00 including VAT
No Renewal Fees charged
An "End of Tenancy Check Out Report" will be undertaken to assess any differences from the original Inventory issued at the start of your tenancy, this cost will apply at the end of the tenancy and will be deducted from the tenants deposit.
The costs are as follows:
No. Bedrooms FurnishedUnfurnished
1. £90.00 including VAT* £75.00 including VAT*
2. £100.00 including VAT* £85.00 including VAT*
3. £110.00 including VAT* £100.00 including VAT*
4. £120.00 including VAT* £110.00 including VAT*
5+ Subject To Quotation